Archaeological Artefacts in Museums and Galleries: Aesthetic Presentation and the Compromise of Meaning
23rd November 2014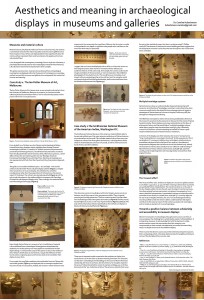 Material culture, the physical evidence of human cultural activity, has acted as a cornerstone attraction for visitors to public museums and art galleries since their inception. The manner in which it is displayed and interpreted in these institutions determines significantly how the visitor ascribes meaning to the artefacts and, by extension, the peoples who created them. It can be argued that contemporary museology favours style over substance; a potentially detrimental state for the archaeological material whose historical, cultural and environmental understanding lies in its often complex interpretation. To examine how archaeological practice is understood within museum contexts, this poster examines the manner in which material culture, specifically that which has been obtained from archaeological investigations, is displayed within the framework of contemporary museology. In addition, how museums and galleries have maintained the artefacts' contextual function and meaning is also addressed. Three case studies will be examined: the Classics and Archaeological Collection on display in the Ian Potter Museum of Art in Melbourne, the North and Central American Archaeological Collections on display at the Smithsonian National Museum of the American Indian in Washington DC, and a small wall case display at the Northern Territory Gallery and Museum in Darwin. By examining the ways in which these museums exhibit their archaeological material – both indigenous and foreign to the city in which the museum is located – it will be possible to address the following questions: (a) is it appropriate to display the archaeological material culture for predominantly aesthetic purposes (in contrast to their original function); (b) does changing the state and function of the items matter once they have been removed from their original contexts; and (c) is it possible to achieve satisfactory balance between scholarship and accessibility in museum displays?
Citation for this poster:
Hubschmann, C. 2014 Archaeological Artefacts in Museums and Galleries: Aesthetic Presentation and the Compromise of Meaning. Poster Presented at the AAA/ASHA Annual Conference, 1-3 December, Cairns.
The download file is 222 KB.
You must be a member to download the attachment (
Login
/
Sign up
)
<< Click here to go back to conference poster gallery page