An Analysis of Aboriginal Fish Traps on Yorke Peninsula, South Australia
23rd November 2014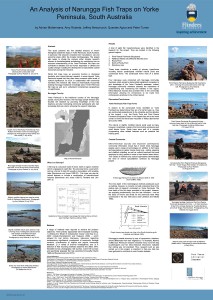 This poster outlines recent research in relation to Aboriginal coastal fish traps on Yorke Peninsula, South Australia. This study presents the first attempt at a thorough analysis of these features and considers their manufacture, use and economic place within the land/seascape. The project also seeks to situate the analysis within broader research relevant to Australian archaeology by considering what the Yorke Peninsula fish traps can tell us about issues such as climate change, intensification and technological innovation. While fish traps have an economic function in Aboriginal Australia, prior ethnohistorical research in areas beyond Yorke Peninsula reveals that they often have numerous other levels of cultural significance. As such, in collaboration with community members, this research also seeks to meaningfully incorporate existing Narungga traditional knowledge about Yorke Peninsula fish traps as well as to understand contemporary perspectives on significance.
Citation for this poster:
Mollenmans, A., A. Roberts and J. Newchurch 2014 An Analysis of Aboriginal Fish Traps on Yorke Peninsula, South Australia. Poster Presented at the AAA/ASHA Annual Conference, 1-3 December, Cairns.
The download file is 971 KB.
You must be a member to download the attachment (
Login
/
Sign up
)
<< Click here to go back to conference poster gallery page