Through a Vertebral Lens: Estimation of Fish Size from a Late Holocene Midden Assemblage on Bentinck Island, Gulf of Carpentaria
04th December 2013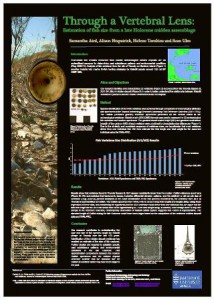 Post-cranial fish remains recovered from coastal archaeological deposits are an underutilised resource for determining past subsistence patterns, fish capture strategies and technologies. Analysis of fish vertebrae from the site of Thundiy, on Bentinck Island in the southern Gulf of Carpentaria, provides insights into the marine species targeted by Kaidilt Aboriginal people between 72‐135 cal. BP (OZP186). Fish vertebrae from XU1 at Thundiy were identified as catfish (Neoarius graeffei) (Kaiadilt bambalt) through comparative analysis with modern Bentinck Island fish species contained in the JCU Tropical Archaeology Research Laboratory Fish Reference Collection (TARL-FRC). Comparative analysis demonstrated that the catfish vertebrae recovered from the archaeological deposits at Thundiy were much larger than those from catfish caught by contemporary Kaidilt fishers. We hypothesise that during the late Holocene catfish were generally larger in size compared with catfish caught on Bentinck Island in contemporary times. This general trend may be indicative of changing environmental conditions and/or human impacts on inshore marine species. Further research would contribute to our understanding of human and environmental conditions, and size differences of catfish caught for subsistence purposes through time on Bentinck Island
Citation for this poster:
Aird, S., A. Fitzpatrick, H. Tomkins and S. Ulm 2013 Through a Vertebral Lens: Estimation of Fish Size from a Late Holocene Midden Assemblage on Bentinck Island, Gulf of Carpentaria. Poster presented at the AAA Annual Conference, 2-4 December, Coffs Harbour.
The download file is 550 KB.
You must be a member to download the attachment (
Login
/
Sign up
)
<< Click here to go back to conference poster gallery page