Digitising the Australian Aboriginal Material Culture Collection at the South Australian Museum
04th December 2013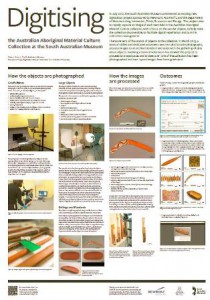 In March 2013, the South Australian Museum commenced an exciting new digitisation project sponsored by Newmont Asia Pacific and the Department of Manufacturing, Innovation, Trade, Resources and Energy (DMITRE). The project aims to generate images of the Australian Aboriginal Material Culture collection held at the Museum in order to make the objects discoverable and to facilitate digital repatriation of items to communities. A team of volunteers has been recruited to take photographs of the artefacts using brand new digitisation equipment, process the photographs to an archival standard, and to scan thousands of 35 mm slides. The project has been a great success so far with over 14,000 photographs taken, 10,000 slides scanned and around 3000 objects documented. The artefacts that have been captured so far include containers, spear throwers, carvings, pain tings, ornaments, shields, stone knives and boomerangs. These artefacts have been simple enough to capture as their scale is small, but there are complexities in ensuring the objects are captured in a way that shows their nature and their magnificence. These complexities will be discussed, as will the hardest challenge of the project to date: how to capture larger scale objects such as spears, canoes, and Tiwi poles with enough detail that the images are useful. In the near future, the images that result from this project will be available via the South Australian Museum's website as a searchable database. It will be an excellent resource for community members, researchers and students.
Citation for this poster:
Adams, E. and S Fidge 2013 Digitising the Australian Aboriginal Material Culture Collection at the South Australian Museum. Poster presented at the AAA Annual Conference, 2-4 December, Coffs Harbour.
The download file is 893 KB.
You must be a member to download the attachment (
Login
/
Sign up
)
<< Click here to go back to conference poster gallery page