A Stratified Site of Possible Pleistocene Age on the Swan Coastal Plain, Perth, Western Australia
23rd November 2014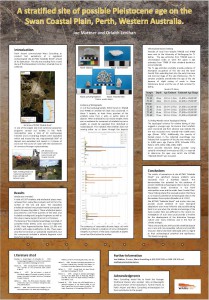 Perth Airport commissioned Waru Consulting to conduct excavations at a registered archaeological site, Department of Aboriginal Affairs #17502 'Adelaide Street'. These excavations represent the largest single programme of test excavations conducted to date in the Perth region and the results are commensurately important. Test excavations at artefact scatter DAA #17502 'Adelaide Street' have revealed potentially stratified archaeological deposits within a Bassendean sand dune. Artefact-rich deposits occurred within spatially discrete layers, with little material above or below and no sorting by size or weight down the deposit. These artefact-rich deposits represent discrete occupation layers, whose extent and distribution did not correlate with the surface expression of the site. Thermoluminescence dating of quartz sand from two test pits returned dates that are in reasonable chronological order, suggesting the presence of possible stratified deposits within Bassendean sands. The preliminary dates suggest the dune was intermittently occupied between 12,000 and 35,000 BP. On typological grounds the excavated assemblage of almost exclusively quartz pieces would be assigned to the mid-Holocene or later. Further dating to resolve this question is needed. Nonetheless, these results confirm the potential for
significant stratified sites to survive on Perth Airport land and elsewhere on the Swan Coastal Plain where dunes with Bassendean sands are close to reliable water sources, potentially including sites with evidence of Late Pleistocene occupation.
Citation for this paper:
Lenihan, O., J. Mattner and T. Bergin 2014 A Stratified Site of Possible Pleistocene Age on the Swan Coastal Plain, Perth, Western Australia. Poster Presented at the AAA/ASHA Annual Conference, 1-3 December, Cairns.
The download file is 519 KB.
You must be a member to download the attachment (
Login
/
Sign up
)
<< Click here to go back to conference poster gallery page