A Preliminary Sampling Protocol for Residue Radiocarbon Dating
23rd November 2014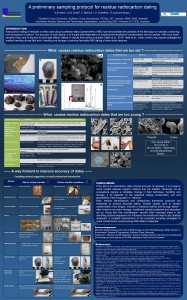 Radiocarbon dating of microgram residues is a relatively new field in archaeological science, so far limited by analytical protocols and instrumentation. While successful applications using Accelerator Mass Spectrometry (AMS) have demonstrated the potential of the technique on such small samples, the analysis revealed challenges and problems, especially with contamination. Frequently, the presence of contaminants on the residue sample induces radiocarbon ages offset. Therefore, both residue identifications and contaminant removal protocols are keystone to achieve accurate dating. Along with this consideration, several other important steps in the sampling protocol sequence can influence the results and need to be carefully assessed. A constant improvement of sampling strategies and extracting methods to avoid contaminants compromising AMS dates is essential. Here we propose strategies for artefact handling (e.g. field work and archive) favorable for accurate AMS dating of stone tools residue.
Citation for this poster:
Yates, A., A. M. Smith, F. Bertuch, A. Scheffers and R. Joannes-Boyau 2014 A Preliminary Sampling Protocol for Residue Radiocarbon Dating. Poster Presented at the AAA/ASHA Annual Conference, 1-3 December, Cairns.
The download file is 744 KB.
You must be a member to download the attachment (
Login
/
Sign up
)
<< Click here to go back to conference poster gallery page