1 William Street Brisbane Historical Archaeological Excavation
23rd November 2014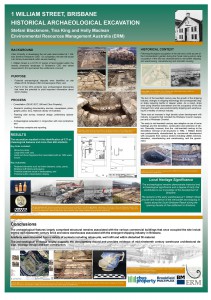 Environmental Resources Management Australia Pty
Ltd (ERM ) was commissioned by Brookfield Multiplex Constructions on behalf of Cbus Property to undertake an archaeological investigation for the 1 William Street project. Overall, 137 archaeological features and more than 600 artefacts were recorded. The archaeological evidence contributes to the known historical occupation of the site from the period of free settlement in Brisbane, following the closure of the Moreton Bay Penal Settlement, to the eventual demolition/removal of all buildings in 1982. The archaeology also provides evidence of mid-nineteenth century warehouse design, drainage, and well construction. The archaeological features largely comprised structural remains associated with the various commercial buildings that once occupied the site including the mid nineteenth century brick and stone warehouses associated with the emergent mercantile shipping industry in Brisbane. Of particular note, were the discoveries of a stone box drain, a large brick well and the remains of a hand-cut stone flagstone floor associated with the first building to be constructed on site, the Harris warehouse (1854). The archaeological remains at 1 William Street do not satisfy the Queensland Heritage Act 1992 criteria for entry on the Queensland Heritage Register as an archaeological place; however, they contain information that is significant at a local level; demonstrating historical and archaeological significance and a degree of rarity. Following the excavation, ERM prepared an interpretive strategy for the project. Recommendations included the use of salvaged archaeological materials, including Brisbane Tuff kerbing, blocks and paving, timber piers, joists and bearers for inclusion in the design of the new building and the outdoor landscape, either recreated or adaptively reused. This project represents one of the few historical archaeological investigations undertaken in Brisbane CBD, and provides a better understanding of the historical occupation, use and development of the study area that may assist with future historical and archaeological research.
Citation for this poster:
Blackmore, S., H. Maclean and T. King 2014 1 William Street Brisbane Historical Archaeological Excavation. Poster Presented at the AAA/ASHA Annual Conference, 1-3 December, Cairns.
The download file is 696 KB.
You must be a member to download the attachment (
Login
/
Sign up
)
<< Click here to go back to conference poster gallery page