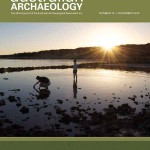 Are you passionate about Australian archaeology? Do you love reading, writing and editing? Want to get more involved in AAA?
We are seeking expressions of interest for two people to take over the roles of (volunteer) Co-Editors of Australia's premier archaeological journal, Australian Archaeology.
Editors should possess the following attributes:
– A keen eye for detail
– the ability to network with colleagues
– the ability to meet deadlines
– the ability to work independently and as part of a team
– have a general interest in the full range and breadth of Australian archaeology as it is practiced today.
If you would be interested in becoming Editors of the journal please contact the current Editors, Heather Burke or Lynley Wallis, for further information via journal@australianarchaeology.com