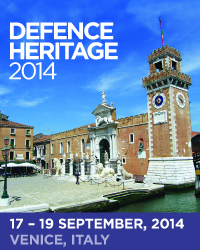 The second International Conference on Defence Sites, Heritage & Future will be reconvened in 2014 at the Arsenale di Venezia, Italy following the success of the first meeting held in Portsmouth, UK in 2012. The conference series launched by the Wessex Institute of Technology is co-organised on this occasion with IUAV and the Arsenale di Venezia Spa, Italy.
Redundant defence sites offer a range of opportunities to planners, architects and local communities to redevelop large areas, bringing new life to often neglected parts of towns. The opportunities are common to many countries and the papers to be presented at the conference will stress this common feature and help to share experiences of the transformation of defence sites to civilian uses around the world.

The conference objective is to raise the knowledge of the scale, design and functions of defence sites. It brings a better understanding of the issues raised by their redundancy and the implications of different disposal processes for the land.
Topics
•    Military heritage history
•    Castles and fortresses
•    Fortified cities
•    Case studies
•    Transition from military to civilian life
•    Community involvement
•    Economic analysis
•    Risk assessment
•    Simulation and modelling
•    Funding and legal requirements
•    Defence tourism
Abstract and Paper Submission
Papers are invited on the topics outlined and others falling within the scope of the meeting. Abstracts of no more than 300 words should be submitted as soon as possible. Abstracts should clearly state the purpose, results and conclusions of the work to be described in the final paper.
We strongly encourage the submission of abstracts electronically, by visiting https://www.wessex.ac.uk/14-conferences/defence-heritage-2014/page-4.html and clicking on the 'Submit an Abstract' button on that page. If you prefer, abstracts can be sent by email, fax or mail to the Conference Secretariat (details on the aforementioned webpage). Please include your name, full address and conference topic on all submissions.
Final acceptance will be based on the full-length paper, which if accepted for publication, must be presented at the conference.
The language of the conference will be English.
The paper deadline will be advised after submission of abstracts.
For further information, visit the conference website.
Thanks Georgia and Australia ICOMOS for alerting us to this one.