SECOND ANNOUNCEMENT: CALL FOR SESSIONS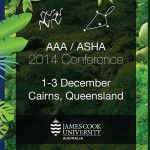 AAA/ASHA 2014 Joint Conference
Culture, Climate, Change: Archaeology in the Tropics
1–3 December 2014,Cairns, Queensland
The joint AAA/ASHA2014 conference will be hosted by James Cook University. The conference theme is Culture, Climate, Change: Archaeology in the Tropics.

Submissions are now invited for proposed sessions. We particularly welcome session proposals linked with the conference theme, Culture, Climate, Change: Archaeology in the Tropics, but also welcome general conference sessions including historical, Indigenous, cultural heritage, native title, rock art, maritime, museums, archaeological science and public archaeology issues. Sessions convened jointly by both AAA and ASHA members will be regarded favourably.

Or go to: https://goo.gl/jSdRVL.
Session organisers should provide a title and brief abstract (up to 200 words) of the proposed session(s), with an estimate of the number of individual sessions requested. All individual sessions will run for 2 hours and include 6 presentations. All papers will strictly be 20 minutes in duration (15 mins speaking + 5 mins question time). Speakers may only present one paper during the conference, although they may be co-authors on other papers.
The Call for Sessions is now open and will close at COB Friday 2 May 2014.
In late May, we will announce the conference sessions that have been accepted and place a Call for Papers to be submitted. Conference registrations will open in April.
Further Information
Further details will be available at:
https://australianarchaeology.com/conferences/aaa2014-conference/
https://www.asha.org.au/conference/
Or email Julie Jerbic at aaa@conferenceonline.com.au.
We look forward to seeing you in December.
P.S. To celebrate the 37th annual conference of the Association the official hashtag for the conference will be #AAA37.