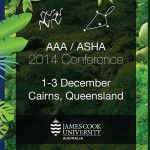 FOURTH ANNOUNCEMENT: CALL FOR PAPER AND POSTER ABSTRACTS
AAA/ASHA 2014 Joint Conference
Culture, Climate, Change: Archaeology in the Tropics
1–3 December 2014, Cairns, Queensland
The joint AAA/ASHA2014 conference will be hosted by James Cook University. The conference theme is Culture, Climate, Change: Archaeology in the Tropics.
You are invited to submit paper and poster abstracts for presentation at the AAA/ASHA2014 conference. A list of sessions is available at: https://australianarchaeology.com/conferences/aaa2014-conference/paper-sessions/

Or go to http://goo.gl/nDZ1xk
Please note that an individual may be the first author and present only ONE oral presentation and ONE poster at the conference, although they can be junior co-authors on any number of other papers and posters.
Submissions for oral and poster abstracts close 27 June 2014. Acceptance of your abstract will be made via email by 18 July 2014.
Please note: If your abstract is accepted for presentation at the conference AT LEAST ONE named author on each paper must be registered for the conference by close of business on 29 August 2014 or the paper will be removed from the programme. Early bird registration fee expires on 15 August 2014.
Further Information
Further details will be available at:
https://australianarchaeology.com/conferences/aaa2014-conference/
http://www.asha.org.au/conference/
Or email Julie Jerbic at aaa@conferenceonline.com.au.
We look forward to seeing you in December.
P.S. To celebrate the 37th annual conference of the Association the official hashtag for the conference will be #AAA37.