Post from:
Notice of the 2015 Annual General Meeting
17th November 2015
Notice is given hereby of the Annual General Meeting of members of the Australian Archaeological Association.
The 2015 AGM will be held on Thursday 3 December 2015 at 6:30 pm at the Esplanade Hotel, Marine Terrace, Fremantle during the AAA annual conference.
All conference delegates are invited to attend, however only financial members of AAA are eligible to vote. To confirm whether you are currently a financial member please contact the Membership Secretaries Thomas Whitley, Jamie Hampson or Leslie Zubieta.
PROVISIONAL AGENDA
1. Welcome
2. Apologies
3. Minutes of the previous AGM (Cairns, Qld, 11 December 2014).
4. Business arising from previous minutes
5. Reports
5.1. President
5.2. Secretary
5.3. Treasurer
5.4. Membership Secretary
5.5. Journal Editor's subcommittee
5.6. Webmaster
5.7. Australian National Committee for Archaeology Teaching and Learning (ANCATL)
5.8. Code of Ethics subcommittee
5.9. Indigenous subcommittee
5.10. Social Media
5.11. Media Liaison Officer
5.12. State Representatives
5.13. National Archaeology Week subcommittee
5.14. Discussion arising
6. Remuneration of Servants of the Association
7. Other Business
8. Election of Officers of the Committee
9. Close of Meeting
AAA Members are asked to submit for consideration any agenda items or special motions at the AGM in writing (email will suffice) to the AAA Secretary, Lucia Clayton Martinez  (please also cc them to Fiona Hook). Please make sure you indicate your name and contact details as proposer of the motion/item. Please ensure any motions or agenda items are submitted by COB Friday 27 November 2015.
Is this the world's oldest rock art?
04th November 2015
Is this the world's oldest rock art?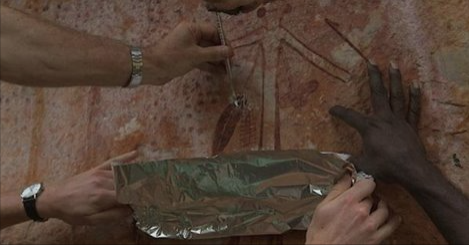 Archaeologists and Aboriginal elders are hoping the most comprehensive study of rock art done in the Kimberley region will confirm the images to be among the oldest made by humans anywhere in the world. Watch Peter Veth, Scotty and Augustine Unhango, Andy Gleadow and Helen Green discuss what they consider may be among the oldest art made by humans on ABC's 7.30 Report with Leigh Sales. 
WATCH Erin Parke's story here. 
Transcript
LEIGH SALES, PRESENTER: Archaeologists have embarked on one of the most ambitious rock art dating projects ever undertaken in Australia. They've been camped out in the remote Kimberley, using new techniques to establish when and how some haunting images were made. As Erin Parke reports, they suspect the artwork may have been created by some of the earliest waves of people to arrive on the Australian continent.
ERIN PARKE, REPORTER: It's some of the most spectacular country in Australia, the Northern Kimberley. The Dambimangari and Balanggarra people have lived here for tens of thousands of years and have left their marks on cave walls and cliffs across the land. But these ancient images are not just works of art. They provide profound historical clues to when Aboriginal people first arrived on the Australian continent.
PETER VETH, UNI. OF WESTERN AUSTRALIA: There are probably no reliable dates for that anywhere and yet here is one of the largest rock art galleries, probably the earliest concentration of figurative art anywhere in the world. And we're literally on the cusp now of dating it properly with all these different techniques for the first time, so it's incredibly exciting. It's a bit of a cyclonic event.
ERIN PARKE: A team of archaeologists and geologists, led by the University of Melbourne, is on a mission to unlock the secrets of when these paintings were created.
PETER VETH: We've got the team that are using a whole basket of different techniques and that will, by definition, revolutionise the way we date rock art, it will produce new chronologies and we expect some of those dates to be old. Some of them may be extremely old.
ERIN PARKE: Each day starts early to beat the midday heat. Base camp is 500 kilometres from the nearest town. With gorges, snakes and crocodiles common in the area, there is always an element of risk.
It's an awe-inspiring spot for the young Balanggarra rangers, descendants of those who originally made these striking images.
SCOTTY UNHANGO, RANGER: I find it a lot interesting. Probably be the wise men and the ones who get the song land for it, powerful men. It's the great leader that put these paintings on this wall.
AUGUSTINE UNHANGO, BALANGGARRA ELDER: It's good to be teaching our kids about the sacred place and the rock art and to keep track of our sacred site.
ERIN PARKE: There have only ever been a handful of attempts made to date Kimberley rock art and most of the results have been vague or disputed. This expedition is targeting sites known to be particularly old, where archaeological digs have proven human occupation dating back 50,000 years.
ANDY GLEADOW, GEOCHRONOLOGIST, UNI. OF MELBOURNE: The longer we look at it, the more we start looking on a small scale, and with a lot of pairs of eyes, we start to see here's a place where there's something we can date that has a relationship to art and there's another place that we can do it. And gradually we build up a picture and over a matter of a few hours, usually, at some of these sites, we come up with a whole series of things that we can take tiny little pieces of and we can take them back to the lab, measure the ages and then we are starting to build up a time framework that relates to the art.
ERIN PARKE: The team is drawing on new dating techniques pioneered by geologist Helen Green.
HELEN GREEN, UNI. OF MELBOURNE, GEOCHEMIST: And we can see there's some pigment squiggles here and the crust is forming over the top of this. So we can use a very small chisel just to chip off a little piece of this and that will let us know that the art that's underneath that has got to be older than the age we get for that crust.
ERIN PARKE: It's painstaking work, as each image is fragile and irreplaceable.
Each day, the scientists collect dozens of tiny samples.
By night, they're recorded and stored away, ready to be analysed back in the laboratory.
3,000 kilometres away at the University of Melbourne, each sample undergoes several different dating processes.
HELEN GREEN: It's a really exciting time for us. I think we got over 100 for that week-long trip. The samples that had really high potential seem to be really thick and internally layered and since we've got back and had a look at these under a microscope and had a look at these on the laser, we can see that there are really consistent layers.
ERIN PARKE: It'll be several months before the first results come in, but hopes are running high that Northern Kimberley rock paintings could prove to be the oldest recorded on the Australian continent.
PETER VETH: We believe that some of this art will be as old, if not older, than that art in Europe. And that makes the Kimberley and all of its art and the cultural connections to it, the living connections of world significance. This is an incredible asset that must be looked after and managed properly.
LEIGH SALES: Erin Parke with that report.
WA Forrest Scholarships
21st September 2015
Forrest Research Foundation Scholarships – UWA
The Forrest Research Foundation of The University of Western Australia was established in 2014 following the donation of $65 million, over 10 years, by Andrew and Nicola Forrest, through the Minderoo Foundation as Trustee of the Forrest Family Foundation. Their donation is to assist Western Australia in becoming a world-class centre of research and innovation through attracting the next generation of outstanding intellects to this State, to pursue either doctoral studies or a postdoctoral fellowship.
The donation funds scholarships and postdoctoral fellowships across all five Western Australian universities.  Funds have also been provided to  build Forrest Hall, a creative living space for rising research stars rivalling the best residential colleges in the world. Forrest Hall will be affiliated with St George's College at UWA.
Forrest Research Foundation Scholarships are offered to the best students world-wide to pursue a Doctor of Philosophy (PhD) at a Western Australian university as part of a package valued at over AUD$45,000 per annum for up to four years. This includes-
an Australian Postgraduate Award (APA) valued at $25,849 in 2015;
a Forrest Research Foundation Scholarship valued at over $19,000 in 2015; and
and a research travel allowance of $13,000.
International students will also receive an International Postgraduate Research Scholarship (IPRS) to cover the cost of tuition fees and health cover.
Applicants for a Forrest Research Foundation Scholarship are required to make contact with potential supervisors before submitting their application.
Please note that these scholarships are available for commencing PhD students only.
All applicants for Forrest Research Foundation  Scholarships at UWA will need to read the Information for Applicants and complete the online application form for the Forrest Research Foundation Scholarships.
Domestic applicants will also need to submit the UWA domestic Application for Postgraduate Study form and the Supplementary Form for Graduate Research athttp://www.studyat.uwa.edu.au/research/research-applications/ to the Graduate Research and Scholarships Office at UWA.
International applicants should complete an online application in the International Postgraduate Research Scholarships (IPRS) Round 2 for 2015 through the UWA iAthena online application system.
Available in the International Scholarships Round 2 2015. Applications open 16 January and close 6 March 2015.
Closing date: Friday 6 March 2015
Please refer to the Australian Postgraduate Award conditions and the Forrest Research Foundation Scholarships Information for Applicants website.
WA Heritage Amendments Update
28th May 2015
MINISTER COLLIER'S BLIND FAITH IN ABORIGINAL HERITAGE AMENDMENTS DEFIES ALL FACTS AND EXPERTS
In response to the Western Australian Minister for Aboriginal Affairs Peter Collier's recent statements rejecting criticisms of the State Government's proposed changes to the Aboriginal Heritage Act, the Aboriginal Heritage Action Alliance (AHAA) are astounded that the Minister still does not recognise the depth and breadth of community and expert opposition to the amendments.
By Clayton Lewis, Teri O'Neil, Liz Vaughan and Natasha Busher.
Minister for Aboriginal Affairs Peter Collier. Photo credit: Perth Now.
Minister Collier's statements are included in a recent ABC News report [1], where he defends criticisms made of the proposed changes, stating that "the legislation does provide avenues for Aboriginal consultation… as far as the CEO of the Department of Aboriginal Affairs is concerned, it does give him authority with regards to heritage applications, however there is a considerable process of consultation with Aboriginal people before it gets to that point".
This is empty rhetoric that blatantly disregards critical reviews made by the likes of former Federal Aboriginal Affairs Minister Ian Viner [2], renowned Mabo native title lawyer Greg McIntyre [3], the Law Society of WA [4], the Australian Archaeological Association [5] and the Australian Anthropological Society [6]. In advice given to AHAA, Ian Viner AO QC advised that:
"The fundamental objection is to the substitution of the CEO for the present Advisory Committee and the untrammelled bureaucratic power then given to the CEO over the lifeblood of sustained recognition of aboriginal cultural heritage and, therefore, the long term sustainability of aboriginal traditional law and custom. Destruction of the places and objects of law and culture is the first step to the ultimate destruction of that law and custom. "
The Minister's words do not match his actions. Under his leadership, 23 sacred sites have been removed from the State's heritage register without consultation with Traditional Owners, merely a notification letter in some instances. The number of sites given legal protection has decreased 12 fold since 2011 [7], and 90% of the 2014 public submissions on the changes to the Aboriginal Heritage Act were negative [8].  The Ministers recent defence of the CEO's ultimate power totally contradicts expert and professional critiques, and indicates that Minister Collier does not know what is going on in his own department, who AHAA assert are ill-equipped for the vast new powers the Aboriginal Heritage Act Amendment Bill will provide them with.
Given the Department of Aboriginal Affairs recent track-record of failing to adequately manage Aboriginal cultural heritage in Western Australia, how can the Minister expect the public, in particular Traditional Owners across the state, to have faith in a government agency, or worse, an individual, to be responsible for the protection and management of cultural sites when it has been proven in the Supreme Court with the Port Hedland test case win [9] that they have been applying flawed legal advice, resulting in possibly hundreds of sites left unprotected from land development [10].
Another incident where this appears to be occurring is Murujuga (the Burrup Peninsula). This area is recognised internationally for its intense concentration of ancient Aboriginal rock-art. And yet, it has been the subject of on-going disturbance as a result of government supported industrial pursuits, and, most recently, was one of the 23 sacred sites to be removed from the State's register (Site ID 23323). To liken this to other international sites, imagine a government approving the destruction of Stonehenge, or the pyramids, to accommodate a mining expansion… Imagine that decision potentially being at the sole discretion of one individual bureaucrat… What would the outcry be then? Yet this is what the proposed changes to the Aboriginal Heritage Act would potentially allow for. It appears that the Western Australian State Government is more occupied with fast-tracking development applications, than it is with responsibly assessing and conserving irreplaceable heritage sites.
AHAA agrees that the existing Aboriginal Heritage Act needs reviewing, however, the current proposed changes are not appropriate and should not be passed in Parliament. We, and many others, are not opposing the changes for the sake of protest or antagonism, but are simply saying they are not the answer to balancing the need for development with the protection of Aboriginal cultural heritage sites in Western Australia. Aboriginal people across Western Australia have worked with both government and industry to facilitate some of the biggest mining expansions and urban developments the state has ever experienced, and yet now, they are being undermined throughout this process. Consultation with Aboriginal people to-date has been limited and disrespectful, but that seems to be no deterrent to Minister Collier who just wants to "push this much-needed legislation through Parliament". As Ian Viner AO QC states;
"if passed I would expect protection of heritage in Western Australia to be driven to Commonwealth environmental and heritage legislation and more objections channeled through the Native Title Act ("NTA"). The irony is that that would be more costly and time consuming for prospectors, miners, developers and the State Government"
AHAA continue to oppose the proposed amendment bill currently before Parliament, and insist that it be withdrawn and referred to a Select Committee for a more suitable review. We request the Department of Aboriginal Affairs, or Minister Collier, clearly state why they continue to defend and attempt to progress the proposed changes to the Aboriginal Heritage Act despite the strong evidence-base that it is not good legislation but is;
"…not only offensive to Aboriginal heritage but to modern international approach[es] to the protection and preservation of indigenous heritage and the cultural traditions of indigenous people for the benefit of the whole of a national society…" Ian Viner AO QC.
---
[1] "Aboriginal Heritage Act: WA minister rejects criticisms changes give too much power to single bureaucrat", posted Tuesday 26th May, 2015 on ABC News.
[2] Ian Viners AO advice to Clayton Lewis of the AHAA.
[3] "Nationals MPs unlikely to support changes to the Aboriginal Heritage Act", posted Monday 25th, 2015 on ABC News.
[7] Statistics on site registration
[8] Of the 73 responses available for review on the DAA website 57* clearly criticise the proposed amendments and raises concerns regarding their potential impacts. This number does not include the 95 other submissions from individuals that are noted to be in similar opposition to the changes, but which are not available for review. Including the additional 95 individual submissions, this totals a solid 90% of public submissions being made against the proposed changes outlined in the Aboriginal Heritage Act Bill (AHAB). Those submissions that were fairly balanced in their views (n=4), or not as strongly worded in their opposition (n=4) have not been included in this total. Only 8 submissions were lodged with DAA that were supportive of the proposed changes. Despite this vast majority of submissions being highly critical of the exposure draft of the AHAB (June 2014), the subsequent Bill as presented to State Parliament in November 2014, was mostly unchanged.
[9] see "Aboriginal heritage test case overturns decision to deregister Port Hedland site" posted Wednesday 1st April, 2015 on ABC News.
[10] QWON Robin Chapple to Peter Collier, Tuesday 5th May, Legislative Council, C468
Prepared by Clayton Lewis, Teri O'Neil, Liz Vaughan and Natasha Busher of AHAA.
For further comment contact AHAA media contacts:
Clayton Lewis 0498 002 812
Liz Vaughan 0400 993 907
Update on changes to the AAA Constitution
08th May 2015
Dear AAA Members,
As per the advertised AAA Ordinary General Meeting held on 23 February 2015, a quorum of 23 Members in good standing unanimously voted to change the Constitution by way of addition in order to make it possible for the Association to apply for registration as a Cultural Organisation with gift-deductible status.  The additions to the constitution are:
1. Addition of clause f to Section 2: Objects and Purposes of the Association: "(f) to establish and maintain a public fund to be named "The Australian Archaeological Association Public Fund".
2. Addition of Subsection 7 to Section 8: Banking and Finance as per legally required wording, which can be perused on the Constitution.
The new Constitution has been lodged with the regulator (ACT government) as well as an application to be registered as a Cultural Organisation that has a dedicated bank account for the Public Fund. This process should be completed in the next few months, after which AAA will be able to receive tax-deductible donations.
Regards,
Martin Porr, AAA Secretary (on behalf of the Executive)
Top 10: 40,000 year old rock art
27th January 2015
Australian archaeologists rewrite our understanding of human artistic origins– named in top 10 scientific achievements for 2014
Liz Vaughan, Archaeology Honours student at the University of Western Australia

'Pig-deer' rock image from Sulawesi. Photo courtesy the Daily Journalist. 
In a paper published in the October 9th issue of Nature Drs Maxime Aubert and Adam Brumm revealed the discovery of 40,000 year old rock art on the Indonesian island of Sulawesi.
Europe has often been considered a cradle of human artistic expression and symbolic behaviour, but the findings from Sulawesi immediately challenged these traditional views. Since 1996 Science magazine has selected what it considers the most outstanding scientific discoveries of that year. The piece by Aubert and Brumm was ranked as one of the 10 most important scientific discoveries made in 2014. Science notes that researchers "… suggest that humans in Indonesia independently invented symbolic art as early as Europe's cave painters did—or that modern humans were already sophisticated artists when they spread out of Africa starting about 60,000 years ago".
The Sulawesi cave art includes mouth-blown hand stencils and figurative art such as the rare 'pig-deer' in mulberry red hues. Using a technique called Uranium Series dating, Dr Aubert measured the radioactive decay of uranium in stalactite-like growths that formed on top of the paintings. Using this technique the hand-stencil was found to be at least 39,000 years old whilst the animal paintings were found to be at least 35,400 years old.
These findings could change our understanding of key developmental stages in human history, such as when and where symbolic behaviour arose in our species. Symbolic and artistic behaviour flourished in Europe between 35,000 to 39,000 years ago, with the appearance of the earliest 'Venus' figurine, as well as images of rhinoceroses, horses and lions at the famous Chauvet Cave in France and bulls at Altamira in Spain. However, there is an increasing pool of evidence from Australia that shows the possibilities of equally ancient artistic traditions. This is hinted by a 40,000 year old painted rock slab from Carpenters Gap in the Kimberley, ochre with use-wear striations from Nauwalibila 1 and Madjebebe rock shelter in the Northern Territory dated to 53,000 years BP by thermoluminescence (Roberts et al. 1994), the use of ochre in the 'Mungo Man' burial at Willandra Lakes 40,000 years ago, and the dating of red pigment in mineralized rock in surface accretions at the Quinkan rock shelter to 27,000 years ago (Watchman 1993).
It has been argued recently that Aboriginal people arrived on the continent by 50,000 years ago (Veth and O'Connor 2013) with a complete cultural package, including advanced symbolic behaviour and abstract thought (Balme et al 2009; Veth et al 2011). It was precisely these modern behaviours that allowed people to plan and carry out the significant ocean voyages to Australia (then a combined Australian/ Papua New Guinean land-mass known as Sahul) and rapidly colonise the world's most arid continent.
"The evidence of figurative artistic capabilities 40,000 years ago from Sulawesi raises the possibility that equally early rock art may be found within the Australian context", Dr Max Aubert tells AAA, "however rock art in Australia is often in sandstone country, which makes dating using the uranium series technique difficult".
Read more of this story here and here.
References:
Balme, J., I. Davidson, J. McDonald, N. Stern and P. Veth 2009 Symbolic behaviour and the peopling of the southern arc route to Australia. Quaternary International 202:59-68.
Roberts, RJones, RSpooner, NHead, MMurray, A Smith 1994The human colonisation of Australia: Optical dates of 53,000 and 60, 000 years bracket human arrival at Deaf Adder Gorge, Northern Territory Quaternary Geochronology 575-583.
Veth, P. and S. O'Connor 2013 The last 50,000 years: an archaeological view. In A. Bashford and S. Macintyre (eds) The Cambridge History of AustraliaMelbourne: Cambridge University Press.
Veth, P., Stern, N, McDonald, J, Balme, J. and I. Davidson 2011  The role of information exchange in the colonisation of Sahul. In Whallon, R., Lovis, W. A. and R. K. Hitchcock (eds) The Role of Information in Hunter-Gatherer Band Adaptations, pp. 203-220. Los Angeles: The Cotsen Institute of Archaeology Press of UCLA.
Watchman, A, 1993 Evidence of a 25,000 year old pictograph from northern Australia. Geoarchaeology 8 (6): 58-65.