Post from:
Notice of the 2014 AAA Annual General Meeting
02nd November 2014
Notice is hereby given of the Annual General Meeting of members of the Australian Archaeological Association. The 2014 AGM will be held on Tuesday, 2nd December 2014, from 6:00 – 7:30pm, in the Kuranda Room at Pullman Cairns International (17 Abbott Street, Cairns 4870), during the annual AAA conference.
All conference delegates are invited to attend, however only financial members of AAA are eligible to vote. To confirm whether you are currently a financial member of AAA, please contact the Membership Secretaries via: membershipsecretary@australianarchaeology.com. (more…)
Protest about changes to WA Aboriginal Heritage Act
03rd September 2014
In response to the WA government's proposed changes to the Aboriginal Heritage Act the Swan Valley Nyungah Community has organised a rally in protest for Tuesday September 16 at Parliament House, Perth. Details on the legislative changes can be found on the DAA website. Responses on the changes, including the AAA response, are publicly available here. Please pass this information on to anyone interested in attending.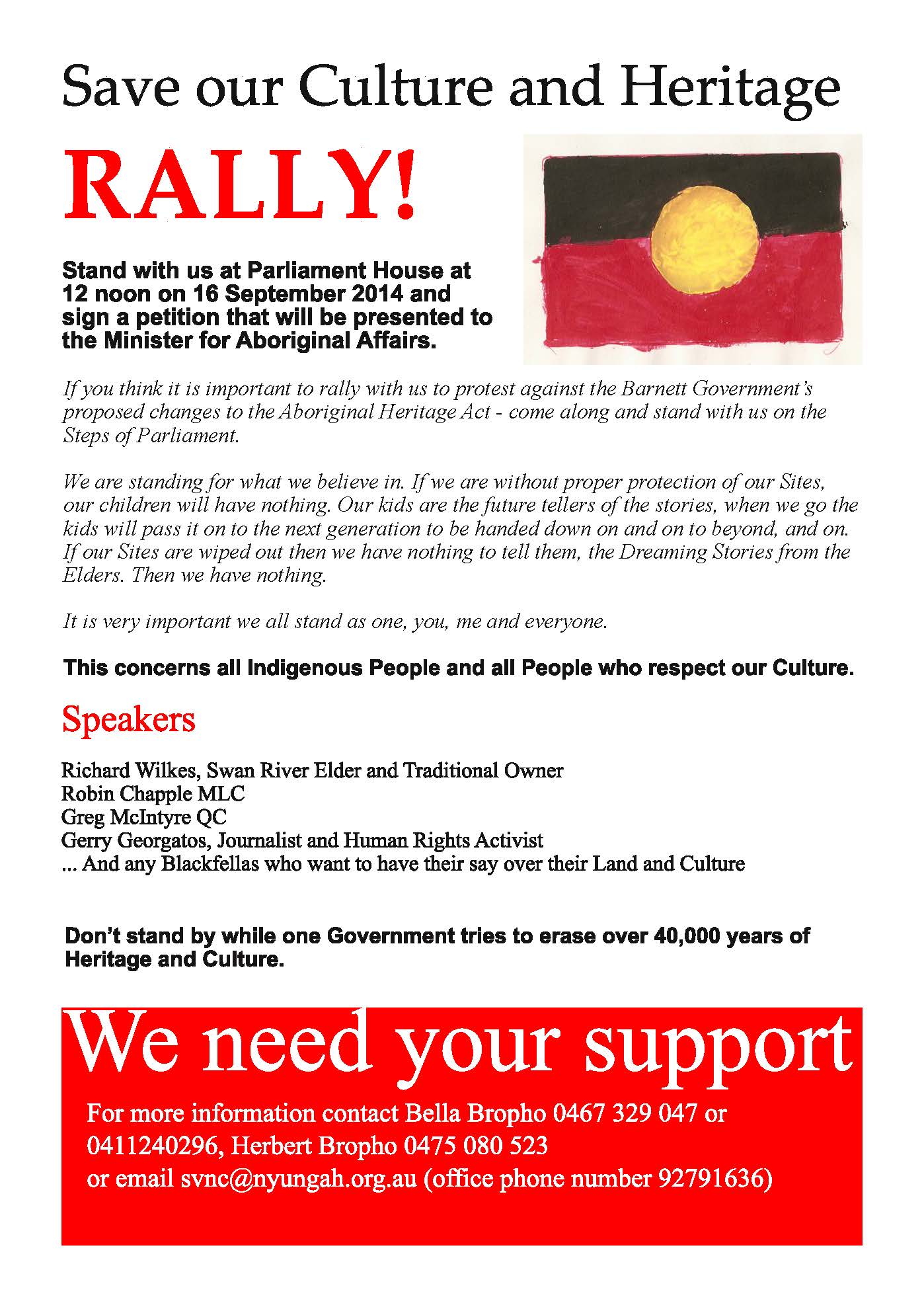 WAC is seeking a Director of Communications
18th July 2014
Message from the WAC Executive
Nominations are open for the position of the WAC Director of Communications.
The WAC Director of Communications' primary task, once appointed, is to oversee the general operation and constant improvement of the dissemination of information concerning WAC principles and activities through the WAC website and social media. This individual will be asked to establish and chair a new WAC Committee of Communications, whose duties will include: updating the WAC website, improving communication between WAC members by looking into possibilities such as a moderated bulletin board, setting out strategies for the improvement of WAC communications, and establishing an efficient and sustainable system for the running and maintenance of WAC communications media. The Director of Communications will work closely with members of the WAC Executive Committee and the WAC Council. This individual should be organized, detail-oriented and be able to multi-task. They should have excellent written communication skills and be able to collaborate effectively with varied parties. Finally, the Director of Communications should be a dedicated member of WAC committed to fulfilling WAC's missions.
Letters of nomination, accompanied by a CV and a document outlining plans for the future of WAC communications should be sent as e-mail attachments to Dr Akira Matsuda, the WAC Secretary, at a.matsuda@uea.ac.uk . Nominations will be accepted until Friday 15th August 2014.
Vale Steve Free
13th May 2014
Vale Steve Free
Stephen Mark Free (Mark Anthony Atkinson)  23 March 1966 – 9 May 2014.  Peacefully departed at Canberra Hospital.  Much loved son of Sybil and Kevin, brother of Vernon, Michael and Matthew, father of Leon and Troy and brother, friend and colleague of many.
Steve was born a Koorie Aboriginal Mark Anthony Atkinson in the Salvation Army Hospital in North Fitzroy Melbourne on 23rd March 1966, to Valma Atkinson, from Echuca, Yorta Yorta country.  Due to the Government policies of that period in Australia's history, Steve became a member of the 'stolen generation' of Aboriginal people and was subsequently adopted to nurseryman Kevin Free and Sybil Free of Croydon in east Melbourne on 28 April 1966.  In 1967, his adopted brother Vernon joined the family, followed by Kevin and Sybil's sons Michael and Matthew in 1969 and 1972.
In 1971, Steve's family and best friends, the Waddingham's, sold their businesses and embarked on a five year journey around Australia, which kindled his initial interest in archaeology and his people's history.  After settling in the New England region of NSW, Steve passed by an Aboriginal bora ring on his daily walk to and from the school bus, which further stoked his interest.
After completing secondary education at the Narooma High School in 1984, Steve moved to Canberra and commenced employment in the Australian Public Service (APS).  He received an APS undergraduate scholarship and commenced university studies in 1988 for a Bachelor of Arts degree majoring in archaeology and anthropology at the Australian National University (ANU). The mentoring of Emeritus Professor Isabel McBryde, Dr Philip Boot, Dr Johan Kamminga and others, who remained life-long friends, and the support provided through the ANU's Indigenous Centre and fellow Aboriginal students, friends and later colleagues such as Sam Wickman and Dave Johnston, saw Steve complete his Honours degree in archaeology in 1993.
Steve embarked on a two decade career encompassing all aspects of Aboriginal heritage, in various roles within government and industry. Initially, Steve worked with Sam, Dave, Rob Paton and Stuart Huys as an archaeologist with Australian Archaeological Survey Consultants. The experience was a valuable precursor for his next role between 1994 and 1998 as an Archaeologist and Aboriginal Heritage Officer with the NSW National Parks and Wildlife Service. Steve returned to consulting between 1998 and 2002 with Yaccaba Archaeological Services, and had a stint at the NSW Department of Fisheries on an Indigenous Research Development Project.
Steve made a significant contribution to the identification, management and protection of Indigenous heritage between 2003 and 2006 at the Commonwealth Department of Environment and Heritage (DEH).  Between 2006 and 2010 Steve was the Senior Aboriginal Heritage Officer at the NSW Department of Environment, Climate Change and Water, based in Queanbeyan. Over the past four years, Steve again returned to the consulting field, with senior roles at South East Archaeology and Freestyle Archaeological Services.
Throughout his career, Steve played a key role in numerous heritage assessments, seeking to identify, assess and manage his people's heritage, a subject matter close to his heart and a passion developed from his childhood. Steve played a leading role in establishing the Australian Indigenous Archaeologists' Association (AIAA). He possessed an extensive knowledge of Aboriginal heritage and archaeology, and from the rare position of an indigenous man and qualified archaeologist with broad experience on 'all sides of the fence', he was able to influence many projects and people along the way.
Our brother Steve was loved by many, who knew him in different ways and at various stages of his life, and will be dearly missed.  Our brother is now at peace.  In Steve's words, "she'll be right mate".
Details of the funeral will be advised when known.
The Journal Editors wish to thank you to Steve's family who approved our posting the above information and to Pete Kuskie for liaising with them and preparing it for us. This information will appear as an Obituary in the December 2014 volume of Australian Archaeology. If anyone wishes to provide additional information/thoughts/photographs for the obituary please contact the Journal Editors.
UWA National Archaeology Week Open Day