Review of 'The Shore Whalers of Western Australia: Historical Archaeology of a Maritime Frontier' by Martin Gibbs
01st June 2011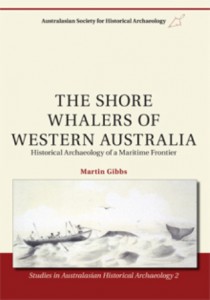 The Shore Whalers Of Western Australia: Historical Archaeology Of A Maritime Frontier by Martin Gibbs. Studies in Australasian Historical Archaeology 2, University of Sydney Press, Sydney, 2010, vi+165 pp., ISBN 9781920899622.
Reviewed by Ian Smith
Department of Anthropology, Gender and Sociology, University of Otago, PO Box 56, Dunedin 9054, New Zealand
Like its predecessor in the SAHA series, this volume presents a study that first appeared as a PhD thesis. In this case, the gap between thesis and book is nowhere near the almost four decades that elapsed before the appearance of Allen's (2008) monograph, but it has still been sufficient to allow the reflection and reconsideration that made the first volume in this series such an important contribution to the discipline. Martin Gibbs has revised and rewritten his original manuscript, reducing its length and removing most of the awkwardness of thesis construction to produce a highly readable book. While retaining the detail and depth of analysis that would be expected of doctoral research, the monograph broadens and updates its theoretical setting, providing an evidentially secure and contextually satisfying analysis of cultural transformations during the nineteenth century European settlement of Western Australia.
In his introduction, Gibbs outlines the concept of a maritime industrial frontier as both a locus for short-lived exploitation of marine resources by non-indigenous visitors and a process through which such visitors learn about and adapt to their new environment. Frontier and adaptation models are not new in Australian historical archaeology, but their use here is well informed by more recent writing on colonisation in the disciplines of anthropology, archaeology, geography and history. Shore whaling is an obvious candidate for treatment within this theoretical context, and the history of the industry and its operation in Western Australia are set out in Chapters 2 and 3. Archaeological treatment of the subject is introduced in Chapter 4, with an archaeological survey of shore whaling sites in Western Australian, and analysis of these in terms of site location, internal layout, and indications of change in these over time.
At the heart of this study are a description of excavations at the Cheyne Beach whaling station (Chapter 5) and analysis of the artefact and faunal assemblages recovered there (Chapter 6). With limited historical description available of life on any of the Western Australian whaling stations, it is the archaeological data that provides most of what can be gleaned about the lives of communities on the maritime industrial frontier. Although the analytical approaches that underlie these data are those current two decades ago, sometimes inhibiting comparisons with more recent work, they nonetheless provide a remarkably broad picture of domestic life at the station. In particular they demonstrate that family life formed part of the community pattern, that there was little evidence for adaptation to the local environment through incorporation of native fauna into the diet, and that interactions with Indigenous populations were near invisible.
The two concluding chapters provide broader interpretations of life at Cheyne Beach (Chapter 7) and life on the maritime industrial frontier (Chapter 8) that draw together the archaeological and historical components of the study, and assess their contribution to the theoretical argument. Gibbs notes that the archaeological record from Cheyne Beach, strongly dominated by debris from the station manager's family home, probably has little to say about the living and working conditions of most participants in the whaling community, but it nonetheless demonstrates that despite their isolation, these people were closely connected to the wider European world. At a broader level, the study shows that although adaptation within the shore whaling industry was insufficient to ensure its own survival, it nonetheless played an important role in facilitating the success of European colonisation of Western Australia.
This book adds both a significant case study and a well-argued test of a theoretical model to the growing body of book-length treatments of colonisation and culture contact in eighteenth-nineteenth century Australia. It should be essential reading for Australian historical archaeologists. Because many of the themes that it deals with are global in scope, it will also find a much wider readership.
References
Allen, J. 2008 Port Essington: The Historical Archaeology of a North Australian Nineteenth-Century Military Outpost. Studies in Australasian Historical Archaeology 1. Sydney: University of Sydney Press.
Ian Smith
Review of 'The Shore Whalers of Western Australia: Historical Archaeology of a Maritime Frontier' by Martin Gibbs
June 2011
72
58-59
Book Reviews
You must be a member to download the attachment (
Login
/
Sign up
)