Review of 'Mungo over Millennia: The Willandra Landscape and its People' edited by Helen Lawrence
01st June 2009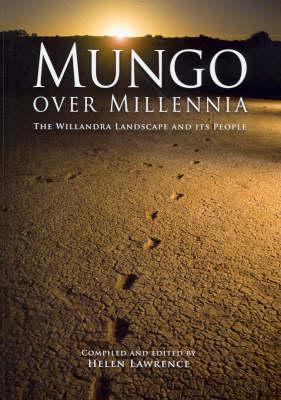 Mungo over Millennia: The Willandra Landscape and its People edited by Helen Lawrence. Maygog Publishing, Rosny Park, Tas., 2006, 64 pp., ISBN 9758199-1-7.
Josephine Flood
Centre for Archaeological Research, The Australian National University, Canberra ACT 0200, Australia
This booklet on the Willandra landscape and its people deserves to be far more widely known. The target audience is the general public and high school students and it was produced for the Mungo Festival in September 2007, with financial support from the New South WalesNational Parks and Wildlife Division, Department of Environment and Conservation. To quote Jim Bowler's back cover blurb on this world heritage region: 'The discovery of 40,000 year old human burials in ice age landscapes of semi-arid western NSW opened a new chapter in our understanding of this land and its ancient occupants. Formerly the province of scientists and the local indigenous community, these discoveries are explored here engaging a new audience of popular understanding. This booklet delivers a message to all Australians'.
The publication includes contributions by the three local traditional owner groups, the Mutthi Mutthi, Ngiyampaa and Paakantyi, and short chapters by six scientists. Some chapters were written specifically for the booklet, while others were prepared by the compiler, Helen Lawrence. Key references are cited at the end of each chapter and there is also a brief bibliography at the end of the booklet.
The first chapter, 'Golden Decade of Australian Prehistoric Research' is based on John Mulvaney's account of Australian archaeology in the 1960s, culminating in the discovery by Jim Bowler of Mungo Lady, the world's oldest known cremation. The following two chapters provide a useful, up-to-date synthesis of Bowler's work, describing the ice age landscape and discovery of the Mungo people. Then attention swings to the cultural material excavated by John Mulvaney, Wilfred Shawcross and others, again a valuable summary of a vast amount of research.
The next chapter is on 'Human Origins and the Mungo Connection' and was contributed by Michael Westaway, who negotiates with skill and sensitivity controversial topics such as the 'Out of Africa versus Multiregional Model' and the robust/gracile debate. He gives Alan Thorne's views a fair hearing but concludes that 'few researchers these days would suggest that they [the Willandra fossil humans] represent two distinct populations' (p.28). Instead, 'Out of Africa supporters argue that the variation within the human fossil sequence in the Willandra region represents the extremes of a homogeneous population across Australia. They contend that the variation between the two populations was a result of micro-evolutionary change and differences that we usually see between males and females – males being more heavily built (or robust) and females being more lightly built (or gracile)' (p.28). However, the picture is complex and there is at least one robust female in the Willandra series – WLH 45 – whose pelvis shape shows that the individual is a female.
The discussion of biological anthropology is continued later but next comes a short section on 'Footprints on the Sands of Time'. These ancient footprints were first discovered by Mary Pappin junior of the Mutthi-Mutthi people. They provide a striking cover to the booklet and a two-page centrefold. There are at least 450 footprints following 23 discernible track-ways of men, women and children. They have been dated to 20,000 years old (by dating a quartz fraction by OSL) and recorded by members of the three traditional tribal groups and by Steve Webb, Matthew Cupper and Richard Robins.
There follows Jeannette Hope's chapter on 'Megafauna and other Fossils' with a useful list of Willandra faunal remains. This is an informative account of megafauna in western New South Wales, which poses several intriguing unanswered questions – why is there so little megafauna at the Willandra? Is it a question of preservation? Why is Diprotodon, so common in inland Australia, absent but Zygomaturus, a wetter habitat species, present?
The chapter by Steve Webb on 'The Pathology and Ecology of Ice Age Willandra People' continues the story. I found this to be one of the most valuable sections of this booklet, since it summarises for the general public a great deal of material Webb has previously published only in scientific journal articles and academic treatises – The Willandra Lakes Hominids (1989) and The Palaeopathology of Australian Aborigines (1995). The WillandraLakes human collection now consists of 160 individuals and Webb's study has revealed both tremendous skeletal variation of the Ice Age people and their general good health and active lifestyle.
Mungo Man (WLH 3) features largely in both Westaway and Webb's chapters, together with photographs of his grave, skull and mandible, and both he and Mungo Lady (WLH 1) are now dated to about 40,000 years. However, the gracile form of WLH 3 has led some archaeologists to doubt his masculinity. It is worthwhile therefore to quote Webb when I questioned him recently on this – 'Take it from me, WLH 3 is male, and I have examined it many times. The pelvis shows that the angle of the sciatic notch (a definitive feature of the sex of any skeleton) is male.' Other evidence is his large femur head and his estimated height of 170cm (5ft 7 inches) in contrast to Mungo Lady's estimated 148cm (4ft 10 inches) Furthermore, 'he suffered from severe osteoarthritis of the right elbow. This is likely to have been the result of a lifetime's use of the spear thrower or woomera' (p.42).
Not only does 'woomera or atlatl elbow' make it clear that WLH 3 was male, but it also is remarkable evidence that 40,000 years ago Aboriginal Australians were using spear throwers. Webb has been convinced of this for a decade, but his findings have been tucked away in scientific works and not publicised. Just to make absolutely sure, I asked Webb if the same osteoarthritis could be produced by spear throwing without use of a woomera, as was the case in Tasmania. His answer was an unequivocal 'no'. It seems that simple spear throwing does not cause this distinctive elbow destruction because most of the forces are concentrated in the shoulder joint. Webb has compared the elbows of those who did not use spear throwers with those who did, and has found that only the latter have the particular wear and extensive destruction of the head of the radius. So, it seems clear that Australia has the oldest known spear throwers in the world!
The final short chapters are devoted to 'Caring for the Willandra', 'Development of a Keeping Place', 'Working Together' by Mary Pappin senior, poems and art works by other Willandra Indigenous people, 'Joint Management in Mungo National Park' and formation of the Three Traditional Tribal Groups (3TTG) Elders Council. Michael Westaway was then Executive Officer for the WillandraLakes region and worked very closely with the Elders Council. Westaway made a huge contribution to the final stages of production of Mungo over Millennia, but the initial inspiration came from a 2004 visit to Mungo by Helen Lawrence, when she was shown round by local elders. This is Lawrence's seventh book. After a career in physiotherapy, she completed as a mature age student an external degree in archaeology and palaeoanthropology at the University of New England in 2000. Since then she has written several books for the general public, notably Making Friends with Fossils – How to Find your Way Through the Maze of Human Origins (2003); Call of the Black Cockatoo (a novel based on Tasmanian Aboriginal archaeology) (2004); Eve's Family Tree – Further Scrutiny of Human Origins (2005); and finally, Mungo Over Millennia (2006). All were published by Maygog Publishing, Hobart, where she now works as editor. At the ripe age of 81, Helen Lawrence is an inspiration to all of us to keep on keeping on!
This booklet is a perfect introduction for anyone planning a visit to MungoNational Park. It is not a guidebook, but tours by Indigenous rangers are available and a 'keeping place' education and research centre is being developed that will essentially act as a regional museum operated by the Elders Council. Here it is possible to view the excellent CD Lake Mungo – Window to Australia's Past produced by Jim Bowler.
References
Webb, S. 1989 The Willandra Lakes Hominids. Canberra: Department of Prehistory, ResearchSchool of Pacific Studies, AustralianNationalUniversity.
Webb, S. 1995 Palaeopathology of Aboriginal Australians: Health and Disease Across a Hunter-Gatherer continent. Cambridge: CambridgeUniversity Press.
Josephine M. Flood
Review of 'Mungo over Millennia: The Willandra Landscape and its People' edited by Helen Lawrence
June 2009
68
65-66
Book Reviews
You must be a member to download the attachment (
Login
/
Sign up
)