Review of 'Many Exchanges: Archaeology, History, Community and the Work of Isabel McBryde' edited by Ingereth Macfarlane with Mary-Jane Mountain and Robert Paton
01st June 2007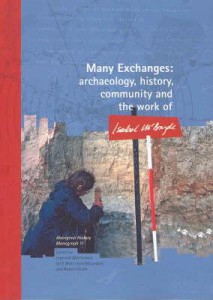 Many Exchanges: Archaeology, History, Community and the Work of Isabel McBryde edited by Ingereth Macfarlane with Mary-Jane Mountain and Robert Paton. Aboriginal History Monograph 11, Aboriginal History Inc., Canberra, 2005, xxxv+412 pp., ISBN 0958563772 (pbk).
Martin Gibbs
Department of Archaeology, School of Philosophical and Historical Inquiry, Building A14, University of Sydne, NSW 2006, Australia
During the last few years we have seen an increasing number of festschrifts released for both the first and second generations of Australian archaeologists. More than anything else this indicates not just the rapid retirement of so many of our founding researchers, but also the start of a very different phase in how we perceive our profession. Although 'closely knit community' may not be the right phrase, it has certainly been the case that until recently making acquaintance with almost anyone from the first generation onwards only required turning up at the next conference and shouting a beer. At worst, critique of someone's academic or personal foibles could be readily obtained as fairly immediate gossip. The roles of personality and personal relationships – and lets face it, so much of Australian archaeology has taken shape from these – could also be factored in without too much effort. However, with retirement, and, for many, a progressive withdrawal from active participation, the immediacy of their personalities and their intellectual contributions is fading or taking a different form. For most fourth generation Australian archaeologists (the student's student's students?) what they know about the foundations and trajectories of the profession is based almost solely on what they have read, rather than who they know. Australian archaeology is starting to formalise its own history, but are we doing it justice?
The festschrifts that we are now seeing span the range. Some, possibly restricted by the nature of the journal or publication, provide restrained academic acknowledgement with papers from peers, students and fellow researchers recognising the subject's work and influences. Others relax a little and sneak in a few anecdotes or life stories which flesh out the subject's personality, sometimes even progressing beyond their archaeological interests. Most annoying are those volumes which have papers where relevance or even reference to the person being honored is non-existent, suggesting to me a lack of effort by authors and editors and possibly an opportunity to simply dust off something lying around on the contributor's desk.
Having made the above comments, if I ever get to the point where I am honored with a festschrift, I want it to be just like the one dedicated to Isabel McBryde. Based on the 'Many Exchanges' symposium held at the AustralianNationalUniversity in 2001, this volume presents a true appreciation of the breadth and durability of Professor McBryde's long-term contributions. The papers in this collection are redolent with genuine affection and respect for both her academic achievements and personality. The backgrounds of the authors, invariably now senior in their own right, demonstrate the impact one person can have in a range of fields: archaeology, ethnohistory, material culture studies, linguistics, art and imagery, cultural heritage management, teaching and relationships with Indigenous and non-Indigenous communities. Each paper also makes a clear connection to McBryde's works and influences, thus satisfying my own desire to see the thread of relationships.
The volume opens immediately with a useful map of McBryde's field areas and an annotated list of studies, rather than just the usual chronological listing of papers and professional positions (although a bibliography of her publications is also provided at the end of the book). Following this is a preface by editor Ingereth MacFarlane which provides a potted history of McBryde's career, and explains the logic of the three sections of the volume. In the first, titled Exchanges of Ideas: The Development of an Approach to Archaeological Practice and its Influences and Outcome, colleagues and past students provide a history of McBryde's career and testimonies as to her personal and academic impacts. My only real quibble with the structuring of the volume lies here, that between the history provided in the preface and the first several papers of the volume, there is a lot of repetition of basic facts about McBryde's career which might have been reduced with a touch of editorial control as to who might focus on what elements. Other than that the overlaps can be forgiven as representing different perspectives. The contributions by Sullivan, Johnston, Byrne and others are particularly enjoyable reflections on the teacher-student relationship, giving hope to all of us that some of our own students will go on to bigger and better things (and still like us at the end). Tjikatu, Pappin and Kennedy present touching tributes to McBryde's work with Indigenous communities across Australia.
The second section, Exchanges within Regions, between Disciplines: Integrative Approaches, traces McBryde's interdisciplinary emphasis, especially her innovative use of ethnohistory. This is perhaps the most interesting section, with studies on trade and exchange systems, movement, ceremony and the contact period which follow her lead in drawing upon diverse bodies of archaeological, historical, linguistic and ethongraphic data. In particular, Davidson's paper on the trade networks in northwest central Queensland and Meehan and Jones' paper on Anbarra perceptions of the significance of stone are fascinating insights into their own long-term multifaceted research projects. Although Pearson's paper on historic shipping networks along the Western Australian coast initially looked somewhat out of place, he cleverly parallels these systems to our understandings of Aboriginal exchange networks, while also integrates a charming narrative about McBryde's father, who worked as a Captain on these routes in the mid-twentieth century.
Section Three, Exchanges in Stone: Lithic Approaches to Past Social Interactions includes studies of stone tool production, use and distribution. The majority of the papers (Hiscock, Mulvaney, Ulm et al.) are withinn the Australian context, with a strong emphasis on the social mechanisms underlying the various processes and their relationships to wider networks. Paton's essay looks at the changing values of the Mt Williams quarry during the historic period, providing a valuable addition and context to McBryde's research at the site. Specht and Torrence both take some of the conceptual structures pioneered by McBryde into their researches on Melanesian obsidian exchange networks.
One of the most attractive qualities of this volume is that on the whole the contributors are such good writers, with the majority of the papers being eloquent examples of good academic prose. This might also be seen as a testiment to the strong narrative qualities of McBryde's own publications. Structurally it is clear that some of these papers could have been equally effective within other sections, but I think that overall the editors did a good job in making sense of the contributions.
As one of the growing number who has never had the opportunity to meet Isabel McBryde, the value of this volume is that it not only provided me with a valuable insight into the extraordinary career of one of our discipinary founders, but also demonstrated how her contibutions have resonated in both my own and so many people's researches and careers. I suspect that this festschrift will prove to be an important contribution for future researchers trying to understand why and how Australian archaeology has come to be.
Martin Gibbs
Review of 'Many Exchanges: Archaeology, History, Community and the Work of Isabel McBryde' edited by Ingereth Macfarlane with Mary-Jane Mountain and Robert Paton
June 2007
64
57-58
Book Reviews
You must be a member to download the attachment (
Login
/
Sign up
)