Review of 'Australian Apocalypse: The Story of Australia's Greatest Cultural Monument' by Robert G. Bednarik
01st June 2007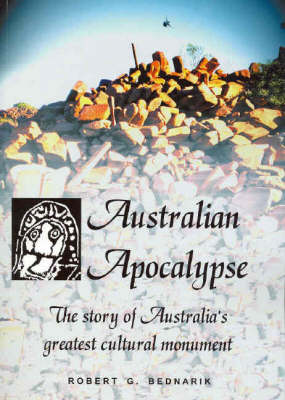 Australian Apocalypse: The Story of Australia's Greatest Cultural Monument by Robert G. Bednarik. Occasional AURA Publication 14, Australian Rock Art Research Association Inc., Melbourne, 2006, 64pp, ISBN 0-9586802-2-1.
Paul S.C. Taçon
School of Arts, GriffithUniversity, Gold Coast campus, PMB 50, Gold Coast Mail Centre Qld 9726, Australia
Robert Bednarik's Australian Apocalypse: The Story of Australia's Greatest Cultural Monument is not an academic book in the sense of having references, new method or theory. Rather, it is a fascinating but tragic story of culture contact, conquest and concern. It is both an historical overview and a personal story of the author himself. Conspiracy theory advocates will find it has great appeal. Aboriginal people will find it a sad metaphor for what happened and continues to happen across Australia and in many other parts of the world. Those interested in Bednarik himself will find it gives us great insight into what drives this well-known rock art researcher. And all readers will learn, in shocking and vivid detail, how we have stood by idly while the cultural heritage of an important part of Western Australia has been systematically vandalised.
Australian Apocalypse focuses on the post-contact history of Murujuga/Puratha rock art of what Europeans refer to as the Dampier Archipelago and/or the BurrupPeninsula. The book begins with a quick overview of the colonisation of Australia 40,000–60,000 years ago, with much discussion of early rafting and ensuing developments within the Dampier Archipelago, from both Indigenous and non-Indigenous perspectives. The devastating effects of Aboriginal first contact with Europeans is then detailed, followed by further changes brought about by European and European-Australian occupation, including massacres of local Aboriginal populations. Bednarik then moves on to the rediscovery of Murujuga/Puratha rock art and his own involvement in this process in the late 1960s. All of this is summarised in 32 pages, accounting for half the book.
The second half of the book focuses on Dampier since 1970, with a chapter on the period of 1970–2000 and another on what has happened since. Industrial development, supposed corrupt governments and perceived irresponsible archaeologists are given serves. A short epilogue rounds out the book. It is here that Bednarik's passion becomes especially apparent with pleas to the thinking people of Western Australia to rid themselves of their government and to stop the destruction of the region's cultural heritage. The book concludes in an idiosyncratic way: a box with a speculative page on what could happen to Dampier industry should the archipelago be hit by a tsunami.
This book is a compelling read. It is part history story, part adventure, part personal tale. It is particularly pertinent given that during the Christmas period of 2006 permission was granted by the Australian Federal Government for over a hundred boulders containing rock art to be relocated or destroyed. Australian Apocalypse will undoubtedly receive mixed reactions. Readers will either love or hate it and some might question whether Bednarik has crossed the line in his portrayal of some politicians and archaeologists. Although it is a beautifully illustrated book, the text would have benefited from being less aggressive and less personal. As well, Bednarik's own role is overstated in many areas, with little or no attention given to Alan Thorne's work on early rafting, Bruce Wright's pioneering rock art research and the late Pat Vinnicombe's own valiant efforts to help save this amazing body of rock art.
Although I agree that the rock engravings of the Dampier Archipelago are outstanding and of world heritage value, I take issue with Bednarik and others referring to the extensive complex as Australia's 'greatest cultural monument' (p.1) or 'largest engraving site'. The area consists of many sites, some widely separated, some close to each other. Some are small; some are large. They vary in quality and some have rock art while others do not. And in all of the recent Burrup debate not enough attention has been given to the non-rock art sites: the standing stones (although Bednarik mentions some, including recent vandalism), stone artefact scatters and so forth. Furthermore, I disagree with the very notion of a 'greatest cultural monument' or that Dampier rock art is Australia's greatest. This is because it equally could be argued that the rock art of Kakadu, the Kimberley, Cape York or some other area is the greatest. Even some individual engraving sites or site complexes of the greater Sydney region could be argued to be as significant. In the end it's like comparing apples to oranges to bananas to mangoes. Each Australian rock art complex is important and significant in its own way. Each complex reflects local Indigenous concerns and history, has artistic merit and national/international historic and contemporary importance for many different groups of people.
Finally, it is disappointing Bednarik and all of the archaeologists working in the Dampier area during the past 40 years did not develop detailed survey, recording, conservation and management plans long ago. There is still much to do and certainly Robert Bednarik is to be congratulated for raising the world's awareness of what continues to plague the cultural heritage of northwest Australia.
Paul S.C. Tacon
Review of 'Australian Apocalypse: The Story of Australia's Greatest Cultural Monument' by Robert G. Bednarik
June 2007
64
59-60
Book Reviews
You must be a member to download the attachment (
Login
/
Sign up
)