Review of 'Archaeology of Asia' edited by Miriam T. Stark
01st December 2006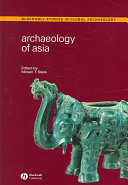 Archaeology of Asia edited by Miriam T. Stark. Blackwell Publishing, Malden, 2006, xvi+364 pp., ISBN 1-4051-0213-6.
Bill Boyd
School of Environmental Science and Management, Southern Cross University, Lismore NSW 2480, Australia
This volume is the eighth in the series Blackwell Studies in Global Archaeology, a series intended to cover the central areas of undergraduate archaeological teaching. While this is certainly a suitable market for the series, this particular volume presents an overview and depth that will also, and perhaps more so, be a welcome addition to the libraries of postgraduate and research archaeologists. Bringing together 15 chapters by 19 contributors, Stark has edited a rich and widespread account of current archaeological trends in the study of Asia, defined by the content as East, Southeast and South Asia, Japan through to India.
In her valuable opening chapter, 'Contextualizing an Archaeology of Asia', Stark places the following chapters into the broad picture of archaeology in Asia. She acknowledges that the volume should not serve as an introductory text; rather she helpfully points to the many books covering various parts of the region. She also notes that the volume cannot be exhaustive, and rather modestly comments on its incompleteness. Certainly, for example, the absence of a contribution on Southeast Asia from Charles Higham is notable, especially given recent developments in the archaeology of prehistoric Thailand. Equally, Stark acknowledges that the volume is not a comprehensive review of social theory of Asian archaeology. She does, however, encourage the reader to consider Asian archaeology in the light of the epistemological, cultural and socio-political frames in which it operates, and which differ importantly from Euro-American archaeology. This is an important point, and is reinforced by Glover's chapter ('Some National, Regional, and Political Uses of Archaeology in East and Southeast Asia'), a precursor to what may be considered more conventional archaeology chapters. Glover covers issues I can recall him explaining many years ago, useful reminders that archaeology can never be context free, and in regions of significant social and political change, archaeology in deed plays an important role in the construction of social and political identity and relationships. This theme continues elsewhere in the book with Nelson, for example, discussing the purposes of Korean archaeology.
The book is organised into four themes. In addition to Glover's and Nelson's chapters on the socio-political context of Asian archaeology, Mizoguchi's 'Self-Identification in the Modern and Post-Modern World and Archaeological Research' explores the relationships between Japanese archaeology and post-Word War II rebuilding of national identity. The following theme, examining formative developments in ancient Asia, is covered in only two chapters, Crawford's valuable review of the emergence of domestication of plants in East Asia, and Bellwood's wide-ranging (geographically) overview of the spread of language and genes. This section could usefully have been supplemented by Morrison's later chapter on hunter-gathering, a chapter that appears in the final section on crossing boundaries. Morrison's chapter draws attention to what she sees as an under-recognised role of hunting and gathering in Holocene societies, reflecting, indeed, the geographic realities of practices placed in diverse landscapes and internally diverse societies that can be seen throughout the world in many seemingly non-hunter-gatherer societies at present. Her focus on power, history and ecology provides a welcome break from the strong resource focus of many studies on hunter-gatherer situations.
While these early chapters address broad generic issues, the following chapters focus more on specific archaeological themes. The third theme covers the emergence and development of complex systems and contains four chapters on economic and prehistoric socio-political organisation and change in China. Underhill and Habu, Liu and Chen and Sheldach and Pines overview early East Asian, Chinese Neolithic and Bronze Age and Qin archaeology respectively. They are complemented by a chapter on writing in Neolithic and Shang China, in which Keightley explores the social and cultural implications of this remarkable development in early society in the region. The final theme, examining the crossing of boundaries, reminds us not just about the development of societies and their internal complexities and organisations so evident especially in the East Asian region, but of their interactions. As is so often the case, edges or boundaries often reveal as much as the core. Remaining in East Asia, Allard examines the southern Han boundary, while Honeychurch and Amartuvshin take us into the Inner Asian confederations and empires; Ray and Sinopoli close the volume with two chapters on Southern and South Asia respectively, Ray charting the archaeology of early Buddhism, and Sinopoli examining the Indian empires of what she calls the 'Empires at the Beginning of History'.
In closing her introductory chapter, Stark notes that the volume is titled An Archaeology of Asia, a title probably changed by the publishers at the last minute: rather than the cover title of Archaeology of Asia, Stark's title sums up the book. It is simultaneously rigorous and incomplete. It does, however, provide a valuable insight into how archaeology can draw so usefully on a range of sources, texts and material remains. In doing so, Stark has assembled a valuable resource for students and scholars alike, a resource made all the more useful by not shying away from the scholarly and national politics reflected in so much Asian archaeology. Modestly, she claims that the volume's chapters seek to illustrate some ways that the archaeological past may be understood in Asia. Judging by the positive reactions I have received from both students and colleagues, Stark can be proud of her efforts.
Bill Boyd
Review of 'Archaeology of Asia' edited by Miriam T. Stark
December 2006
63
61
Book Reviews
You must be a member to download the attachment (
Login
/
Sign up
)