Review of 'A Companion to Social Archaeology' edited by Lynn Meskell and Robert W. Preucel
01st June 2008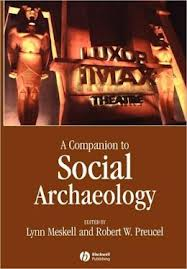 A Companion to Social Archaeology edited by Lynn Meskell and Robert W. Preucel, Blackwell Publishing, Malden, 2004, xi+430 pp., ISBN 978-14051-5678-3.
Alistair Paterson
Archaeology, M405, The University of Western Australia, 35 Stirling Highway, Crawley WA 6009, Australia
The idea of a social archaeology has a long pedigree, and is reinvented for each generation of archaeologists. It is a term that has gained currency in recent years, with a journal badged in that name in press since 2001. A Companion to Social Archaeology is a solid compendium of both past and cutting-edge research into social archaeology. What is meant by 'social archaeology' today? The editors tackle this from a historical perspective in their introduction to Part I, settling first upon Hall's (2001) definition that 'Social archaeology refers to the ways in which we express ourselves through the things we make and use, collect and discard, value or take for granted, and seek to be remembered by' (p.3), before highlighting that 'every form of political economy requires its own history and past narrative' (p.3), and arguing for a greater influence of archaeology in modern societies. The introduction is worth mulling over, for it provides some historical depth to the issue. Meskell and Preucel see the origins of a social archaeology in the 1930s with V. Gordon Childe's attempt to direct the attention of archaeologists to the study of past societies, and in Grahame Clarke's (1939) Archaeology and Society. They highlight how Childe, Clarke and others, such as K.C. Chang, were aware that the practice of archaeology was linked in part to modern social and political interests, a self-awareness central to today's social archaeology. The arrival of processual approaches saw social aspects of past people relegated to a subset of a cultural system, and the authors reflect on the work of Lewis Binford, and Colin Renfrew's characterisation of social archaeology as interested in the social unit and its relationship to the material record available to archaeologists. The postprocessual era, deriving from Ian Hodder's critique of processual archaeology and later the work of Michael Shanks and Christopher Tilley, saw a general rejection of the focus on economic aspects of past societies in favour of the social and political aspects as well as a renewed self-awareness regarding archaeology as a practice conducted in the present and thus socially and politically 'embedded'. With a potted history behind them the editors and their contributors move on to consider the last quarter century. Some contributors in this volume meet the challenge of bridging the concerns of processual and post-processual archaeology in contemporary practice. Others raise issues that have grown in importance in recent times, such as the importance of non-Anglo-American approaches to archaeology, Indigenous approaches to the past, and the relationship between the practice of archaeology and modern communities.
I have read edited volumes recently which while well-intentioned did not have the quality and scope of content to tackle the intended topic – that is not the case in this volume. It is thorough, with 17 chapters by experts in their respective areas. The quantity of chapters makes a thorough description unattractive, and instead I will briefly detail the four sections of the book: Knowledges, Identities, Places and Politics.
The topic of 'Knowledges' requires reviewing the social in archaeological thought, with the most significant distinction being between processual and post-processual approaches. Ian Hodder's and Bruce Trigger's chapters take this issue to task, with Hodder expanding on the editors' introduction to explore 'the social in archaeology', and Trigger reviewing cross-cultural comparisons in studies of the origin of state societies. Thomas Patterson's review of the influence of Marxist thinking on archaeologists provides a comprehensive literature survey well beyond the boundary of archaeology. Issues of embodiment, gender, sexuality and age are considered by Rosemary Joyce who provides a useful review of the last decade of work on these topics in archaeology. Clive Gamble and Erica Gittins argue there is no social archaeology without an understanding of the Palaeolithic, and go on to explore approaches to a social archaeology of the Palaeolithic, arguing that such approaches 'would significantly alter not only the Paleolithic's relationship with the rest of archaeology, but also the relationship the West has with its own identity and past' (p.113).
The section on 'Identities' brings together contributions concerned with the historicity of the archaeological study of identity, and recent trends in the area, including within gender and feminist archaeologies, and in studies of race, class and embodiment. Roberta Gilchrist reviews the recent increased focus on age and aging, from studies of childhood to the culturally and historically contingent understandings of the life experiences of women and men. Chris Gosden reviews how archaeological and anthropological constructions of self and other, and the present and past, have been shaped by their colonial and post-colonial context. He considers the relevance and potential of recent anthropological and other theory informed by post-colonial thought regarding personal and group relationships with the material world. Victor Buchli reports on the construction of the capital of Kazakhstan and how architectural styles reflect the complexity of the construction of identity, even in the recent past let alone in prehistory. Paul R. Mullins reviews an area of core relevance to historical archaeology, namely the archaeological study of consumption over time.
In 'Places', Emma Blake provides a useful overview of recent theories of space in the social sciences, predominantly geography, as well as archaeology. Additionally, she considers the archaeological studies of urban contexts and of border/contact zones before providing a case study of spatiality of the ancient Phoenician colony of Motya (Sicily). Wendy Ashmore provides a very comprehensive review of recent archaeological studies of landscape with a focus on social archaeological perspectives. Julia A. Hendon argues for the study of household production and social relations with a focus on individual agency, daily practice, and economic production at a household level. Ian Lilley's chapter is about diaspora theories; he explores the archaeological potential of these against the evidence of Lapita-using people.
The recent politicisation of archaeology and heritage by events such as the looting of the BaghdadMuseum and the destruction of heritage in the BamiyanValley serves to introduce the final section on 'Politics'. Reinhard Bernbeck and Susan Pollock examine archaeology in the Middle East: who is involved, how they are involved, and archaeology's links to contemporary trends such as globalisation and the breakdown of nation states. Gustavo C. Politis and José Antonio Pérez Gollán consider the situation in Latin America, and the sociopolitical contexts in which archaeology has developed in this diverse region. Randall H. McGuire provides a historical review of two North American competing histories – (1) Native American histories sustained despite colonial and nation state contexts; and (2) archaeologically-informed and, until recently, largely non-Indigenous explanations of the past. Finally, Koji Mizoguchi considers the history of archaeology in Japan and the role of archaeology during the formation of the nation.
The strengths of the volume are clear to me. The volume works: the four sections at first seemed like an unnecessary contrivance, yet they have presented a clear – yet not singular – argument for what social archaeology is today. On the whole each contributor has made a serious contribution in their chapters, and has provided guides to further reading. Both professionals and students will find the volume a very useful reference.
In this archaeological pilgrimage A Companion to Social Archaeology has been a well-met companion on the road.
References
Clarke, G. 1939 Archaeology and Society. London: Methuen.
Hall, M. 2001 Social archaeology and the theatres of memory. Journal of Social Archaeology 1:50–61.
Alistair Paterson
Review of 'A Companion to Social Archaeology' edited by Lynn Meskell and Robert W. Preucel
June 2008
66
81-82
Book Reviews
You must be a member to download the attachment (
Login
/
Sign up
)