Investigating subsistence strategies in Ngarrindjeri ruwe through a study of mid- to late Holocene aged shell middens, Long Point, South Australia
06th November 2013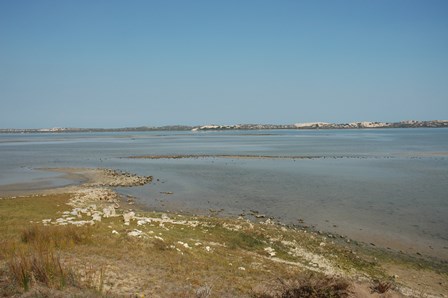 Claire St George
BArch (Hons), Department of Archaeology, Flinders University, October 2009
The Coorong has been the traditional ruwe of the Ngarrindjeri people for thousands of years and is uniquely situated in close proximity to a range of coastal, estuarine and freshwater ecosystems. This ecological biodiversity has resulted in an archaeologically rich and diverse coastal landscape, yet surprisingly little is known about Ngarrindjeri occupation and subsistence in this region prior to the arrival of Europeans. Emerging out of a culturally aware and reflexive approach to archaeology, this research was initiated as an integral component of a larger natural heritage management programme undertaken in collaboration with, and at the request of, the Ngarrindjeri Heritage Committee and the Dapung Talkinjeri Aboriginal Corporation. This thesis explores how shell midden sites at Long Point can contribute to an understanding of Ngarrindjeri occupation and subsistence in the region during the mid- to late Holocene, and hence within the Coorong region as a whole.
Using quantitative methodological approaches to shell midden analysis, this thesis presents the results of field surveys and excavations carried out at Long Point in 2007 and 2008. Occupation was shown to be largely confined to the late Holocene period, post-2500 BP, and comprised predominantly short-term, ephemeral visitation during summer months, with a targeted focus on marine resources. This pattern fits with a proposed period of population expansion and intensification of resource use in the Coorong (Luebbers 1978), as well as more general changes known to have occurred across Australia during the mid to late Holocene. As there had been no systematic archaeological investigations within the Coorong since Luebbers' work, this thesis builds upon his preliminary investigations. This thesis also contributes to a regional and broader continental narrative on coastal archaeology during the Holocene, including wider academic archaeological debates surrounding intensification.
References
Luebbers, R.A. 1978 Meals and Menus: A Study of Change in Prehistoric Coastal Settlement in South Australia. Unpublished PhD thesis, Department of Archaeology and Anthropology, The Faculties, The Australian National University, Canberra.
St George, C.
Thesis abstract 'Investigating subsistence strategies in Ngarrindjeri ruwe through a study of mid- to late Holocene aged shell middens, Long Point, South Australia'
Dec 2013
77
155
Thesis Abstracts
Download
You must be a member to download the attachment (
Login
/
Sign up
)