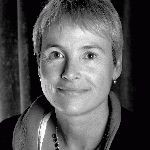 Rhys Jones Medal for Outstanding Contribution to Australian Archaeology 2011
Sue O'Connor
The 2011 Rhys Jones Medal was awarded to Professor Susan O'Connor of The Australian National University (ANU). Professor O'Connor began her career in archaeology at The University of New England where she gained First Class Honours in 1980; she was awarded her PhD from The University of Western Australia in 1991. Her achievements over the last 20 years are are far too numerous to itemise here, and we can only briefly mention some of them.
Sue lectured at UWA until 1994, when she joined ANU as a Research Fellow in what is now the Department of Archaeology and Natural History. She has been Head of that Department since 2005 and was promoted to Professor in 2008.
Her research interests include the maritime colonisation of Australia and Southeast Asia, and the links between people and cultures of these regions; interactions between humans and their environment; coastal and island archaeology; the Neolithic transition in Southeast Asia; and technological change, innovation and transmission theory. Fieldwork for this research takes her to remote locations such as Arnhem Land, the Kimberley, Indonesia, Papua New Guinea and Timor Leste. Her collaborators come from a diverse range of disciplines and local communities leading to innovative research, which is reflected by her successful research grants and her outstanding publication record.
Her research in the Kimberley alone spans more than 20 years: beginning with her PhD that examined the nature of Pleistocene colonisation and subsequent changes during the Holocene. Her research under a 1993 ARC grant provided the first evidence of occupation of the Kimberley region dating back beyond 40,000 years, as well as the earliest evidence for rock art production in Australia. She currently holds two ARC Linkages for research in the Kimberley with Jane Balme and Moya Smith from Western Australia, and is currently working on an ARC Linkage grant in Arnhem Land with Daryl Wesley.
In Timor Leste, excavation of the rockshelter site Jerimalai revealed the earliest site occupied by modern humans in Island SE Asia – at 45,000 years old – not to mention the world's oldest fish hooks which featured in the press in late 2011. Her reassessment of the Neolithic transition has major implications for our understanding of cultural/technological transmission between PNG/Island Melanesia and Island Southeast Asia in the early to mid-Holocene.